I'm worried. Texas has not had as challenging a schedule as Alabama, and has had some close games against teams they should have easily dominated.
Wyoming was the first team to raise doubts about Texas as a championship team. Texas had a tough time making much happen in the 1st half, scoring only a field goal in the 1st quarter and leaving the field at half time with only a 13-10 lead. Texas dominated the second half, but fans expected a bit more of a consistent domination, particularly against a team like Wyoming - a team that would later lose to Colorado.
Colorado, after all, ended the year 3-9. They shut out Wyoming 24-0, but also provided Texas with its second scare of the season. The Buffaloes were ahead at the half with 14 points to Texas' 10. Each team had 2 turnovers and about the same number of rushing yards - Colorado with 42 and Texas with 46.
The so-called "Red River
Showdown
Shootout" against Oklahoma ended with a close 16-13 win for Texas. True, it was a rivalry game, which always changes the dynamic. But this was an Oklahoma without Sam Bradford (at least after early in the 1st quarter when he was injured). Yet with their backup quarterback for most of the game, Oklahoma still had 200 more passing yards than Texas.
Texas A&M is the other big rivalry, but Texas A&M just has an awful team (sorry to my family and friends who are alumni and fans); and Texas should get up for this game as much as A&M. Yet at the end, only 10 points separated the two and only 7 points separated them at half time. In other words, the game was always within reach; and it shouldn't have been.
The Big 12 Championship game against Nebraska - another big game for both teams and one that is notorious for underdog wins - was still closer than it should have been. Texas was barely victorious; and some people doubt their fraction of a second field goal victory (13-12 victory). The clock was at 0 with Texas behind; the game was lost it seemed. After reviewing the play, however, a second was added to the clock ... field goal ... victory. I do think there was a second remaining, but should a victory against Nebraska really depend on one disputed second at the end of the game?
Texas also had plenty of easy wins over plenty of not-so-great teams: Baylor, Kansas, the University of Central Florida, and the University of Texas El Paso.
Alabama, on the other hand, beat Virginia Tech and LSU - both top 15 teams, Arkansas, Mississippi and Tennessee - all solid "honorable mention" teams, and of course Florida. Alabama also beat most of those teams (Virginia Tech was close, but that was their first game of the season) quite definitively.
I'm sympathetic to the notion that Alabama v. Florida was the real championship game. Alabama beat Florida 32 to 13, yet Florida dominated Cincinnati in its bowl game (Cincinnati coming to the game with an unbeaten season, though admittedly not the most challenging schedule), with a final score of 51 to 24.
Of course, as a fan, I'm optimistic about a Texas win. As much as I doubt Colt McCoy's skills and consistency, he has an impressive completion record of over 70% this year. Florida's Greg McElroy is a little over 60%, but perhaps a tougher schedule can explain that (he was nearly 67% against Florida).
I think Texas has a chance if Colt is up for it - consistent, solid and with receivers open. That means, among other things, fewer interceptions and sacks. Even if he's "up for it," his receivers will need to be open and the 'Horns will need a stellar running game. Most critical 3 things: interceptions, sacks and rushing yards. Those are the 3 that will carry Alabama to a national championship over Texas.
Finally, I hope Mack Brown will consider a better wardrobe.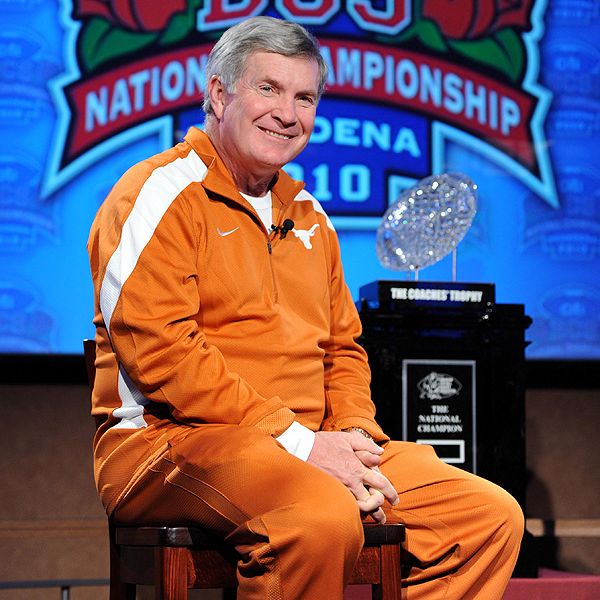 What exactly is in your pocket Mack?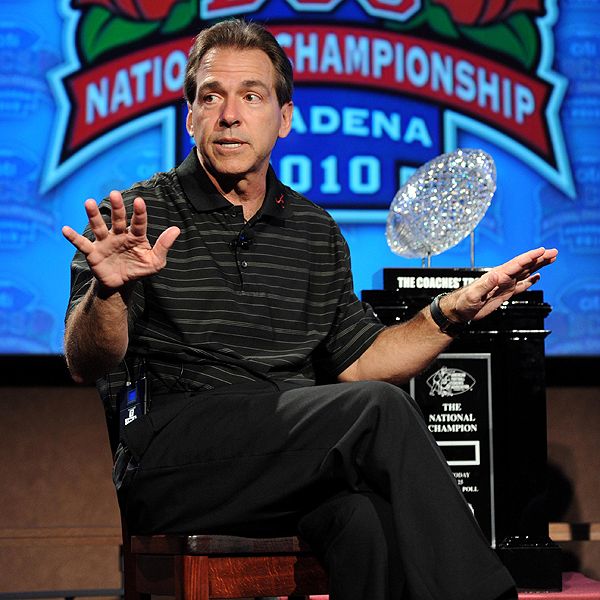 I hope you lose, but you are looking sharp Saban.